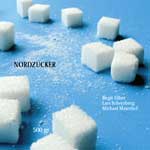 CS052 CD, $16.00
Add to Cart


Nordzucker: 500gr
Ulher / Scherzberg / Maierhof


Birgit Ulher – trumpet
Lars Scherzberg – saxophone
Michael Maierhof – cello

recorded by Gunnar Brandt at Vivaldi-Saal, Berlin, on March 14, 2005

Creative Sources
total duration: 49:47


from the Booklet:

Since 2004 Nordzucker is exploring a very special space of sound.

Lars Scherzberg, Michael Maierhof and Birgit Ulher developed an individual language of sound, beyond the traditional way of using the instruments by extended techniques, preparations with clothes pins, mutes and metal objects.

The open texture of the music, with lots of silence, is created with splitted, multiphonic and multilayered sounds.

The music of Nordzucker combines the freedom of improvisation and musical precision. Their first cd is released by Portuguese label Creative Sources.