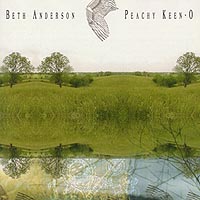 Pogus 21030-2 CD, $14.00 US
Add to Cart
Download from iTunes
Download from Rhapsody

Beth Anderson -
Peachy Keen-O

This CD has pieces with an auctioneer, a Kentucky farm with birds & clover, a jazz dancer, a quivering, vibrating, sexually tinged piece full of women saying supplication, a saint dying in flames, a drum piece about frustration, mother/daughter miscommunication, a pipe organ, and punk rap with overtones of yoga. Many of Anderson's compositions from 1973-1979 use words or parts of words to make either all or part of the music. Sometimes the music is derived from the words. Some of it is considered to be part of the genre known as text-sound.

(The following is edited from Beth Anderson's liner notes)
Peachy Keen-O (1973): This electro-acoustic piece is for female voices, organ, electric guitar, vibraphone, large membranophones & metalophones, improvisatory dancers, peach light and pre-recorded tape. It is what my mother called "haunted house music". Tower of Power (1973): This organ piece is a graphic score. The recording on this CD is the first performance. The ideal playback of this piece would be "as loud an amplitude as possible, using both your ears and your equipment to decide". Torero Piece (1973): The phonemic part of this text-sound piece was derived from a paint-by-numbers scroll found in a used clothing store. The vowels and consonants were chosen because they exist in the Spanish language. (I had just heard ZAJ perform and I was very enthusiastic about them). The instruction for the reading part is to describe the most dramatic event or relationship in your life. Each performer writes his/her own speech. Joan (1974; 1977): In 1974 I made an oratorio about Joan of Arc using the translation of the text of her trial as the basis. I decoded the text into pitches and used a modulating coding system with instructions and free rhythm. The concert performance was amazing…. However I was not able to hear my modulating coding system clearly in all this, so I made the version of that piece that is on this CD. This fifteen-track all piano version of only the pitches was made in 1977. Ode (1975): "Ode" was created and mixed at the Queen's College and Wesleyan electronic music studios. I Can't Stand It (1976): When I first moved to New York I had a hard time getting used to how things were here and this piece is a direct response to that frustration. It was conceived for voice and drum set. Yes Sir Ree (1978): This text-sound piece is based on phrases used by Richard Levy and things his students mumbled about him. He used to scream various encouraging words and compliments at his students in the process of teaching his class and his philosophy seemed to be that dancing was to be enjoyed massively. Ocean Motion Mildew Mind (1979): This is a Punk realization of "ommm". The words begin "ocean, motion, mildew, mind" and continue "wishin', Titian, swishin', swine." Country Time (1979): This piece is a cut-up of an additive description of a walk around my family's farm in Kentucky in early summer with a poem I wrote about other experiences in Kentucky. It is for voice and percussion with or without birdcalls.

Beth Anderson (b. January 3, 1950, Lexington, Kentucky) is a composer of avant-garde works that have been performed all around the world and that have brought her much acclaim; she is also active as a critic, pianist and vocalist. Ms. Anderson earned half a PhD at New York University, majored in piano performance at the University of Kentucky from 1966-68 and earned her BA in music from the University of California in 1971. She studied further at Mills College in Oakland, California and earned her MFA in piano performance, 1973 and her MA in composition, 1974. She was co-editor of the publication Ear from 1973-79 and is currently a teacher at the Greenwich House Music School, New York. Over the years, Ms. Anderson has studied with Robert Ashley, Larry Austin, John Cage, and Terry Riley, among others. She is a pioneer in the field of text-sound music, which uses words and phonemes to make a kind of vocal-percussive music.






Listen (Mp3)

Reviews - by John de Clef Piñeiro