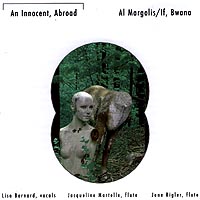 21046-2 CD, $14.00

Download from iTunes




Al Margolis/If,Bwana
An Innocent, Abroad


The new Al Margolis/If, Bwana cd is comprised of Issue, for electronics and multi-tracked voice, and An Innocent, Abroad, a 40 plus minute work for electronics, vocals, and flutes. An Innocent, Abroad can be best described as a Sonic Oratorio: an assemblage, a construction of an event that never happened or will happen. A live installation for radio, perhaps.

There is no "meaning" to the text. All parts were drawn or are inter-related to the original vocal track, recorded by Lisa Barnard, which is no longer present. The text/voice part has been multi-tracked and now represents five "separate entities". The electronic parts have been extracted and processed from the original vocal track. The five flute parts were performed by Jane Rigler and Jacqueline Martelle, and was be improvised by them. They recorded to the separate voice tracks. None of the performers heard the entire piece that they worked on.

Lisa Barnard is a vocalist and performance artist. Most noted work is her interpretations of her dreams into original performances for Deep Listening Institute's annual Dream Festivals. Jacqueline Martelle is a flutist and arts administrator, living in New York City since 1996. She performs new music and has recorded on the Mode and Centaur record labels. Jane Rigler, flutist, composer, educator and producer is an active featured performer in contemporary music festivals throughout the U.S. and Europe as a soloist as well as within chamber ensembles

Al Margolis was one of the prime movers in the cassette underground scene of the 1980s (between 1984 and 1991 his Sound Of Pig label released over 300 cassettes of music by the likes of Merzbow, Costes, Amy Denio, John Hudak and Jim O'Rourke) and is the éminence grise behind twenty-three years of music under the name If, Bwana. He is the man behind the Pogus label, as well as label manager for Deep Listening, XI Records, and Mutable Music.

What has been said about his work:

"It's as if one of Eliane Radigue's pristine works had been left out in the garden to accumulate a layer of sonic moss and dirt." (Dan Warburton)

"The resulting texture sounds more like a Horatiu Radulescu piece performed by Morphogenesis." (DW)

"a kind of scary cross between the lunatic fringe of English esoteric explorers (Nurse With Wound, pre-menstrual Current 93) and late 60s AMM." (DW)

The cd cover, Vixen de Milo, is a 20 year ongoing work by Dan & Detta Andreana.

Review