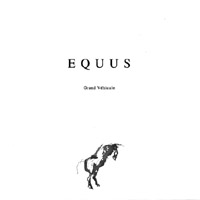 21052-2, 33 min. CD, $12.00
Add to Cart

Download from iTunes




Lionel Marchetti & Olivier Capparos
EQUUS
Please Note: This is a 33 minute CD.
Equus is a collaborative work of musique concrète recorded in 2001-02 on a commission from the INA GRM It is truly a delight for Pogus to add this title to our catalog. As Capparos notes: "Equus guides us through human memory and history. It may sound a bit strange that sound & music would appear as a "vehicle", or as we had cast a lead into a labyrinth. This brings us to the question of whether we are alive or not; travelling the path throughout these soundings would drive us down and up our consciousness and our listening, not to mention that we are dead or alive."
Olivier Capparos is an instrumental and electro-acoustic composer whose work encompasses philosophy and literature as well as music. Many of his compositions are focused on voice and its interpretation through loudspeakers. Capparos was composer in residence at the INA-GRM in Paris (2001), the Studio National des Arts Contemporains du Fresnoy (2002­3), and at the Argos Center in Bruxelles (2004). He has composed and conducted works for chamber orchestra, voice (soprano), violin, and piano, and has co-produced many other recordings and radio broadcasts with Lionel Marchetti throughout their long association.
Lionel Marchetti was born in France in 1967. His interest in music resides in the qualities of sound. He started to experiment by himself and later discovered the rich French corpus of musique concrète through Xavier Garcia. He is one of a handful of artists who in the mid- to-late 1990s took electro-acoustic music out of academic studios and into the free improvisation ring. A scholar who worked at the CFMI (Lyon) and INA-GRM studios and published a book on acousmatic composer Michel Chion, Marchetti developed a set-up of microphones and loudspeakers he uses on stage along with tape recorders, prepared CDs, motors and radios. He often refers to his instruments as an Œelectro-acoustic contraption¹. His musique concrète studio work incorporates sound collage and academic electro-acoustic composition, though the level of poetry and refusal of genre boundaries in his music puts him closer to Kristoff K. Roll and Luc Ferrari than Pierre Henry or Bernard Parmegiani. Following his encounter with Metamkine label owner and fellow sound experimentalist Jérôme Noetinger in the early 1990s, a series of live and improvisation-based projects would run parallel to his more academic career. The Marchetti-Noetinger duo was the first of such projects and remains the longest lasting one. They are also involved in the audio- visual project Le Cube. In addition, Marchetti performs with the influential improv collective Archipel (with Emmanuel Petit, Sophie Agnel, Fabrice Charles, Pascal Bathus, and Werchowski).

Review